How to enable Azure plugin in the portal Account panel?
Log in to your accounts.portal.com or equivalent admin panel used to create your schools.

Search for the school.

Click Plugins > Edit.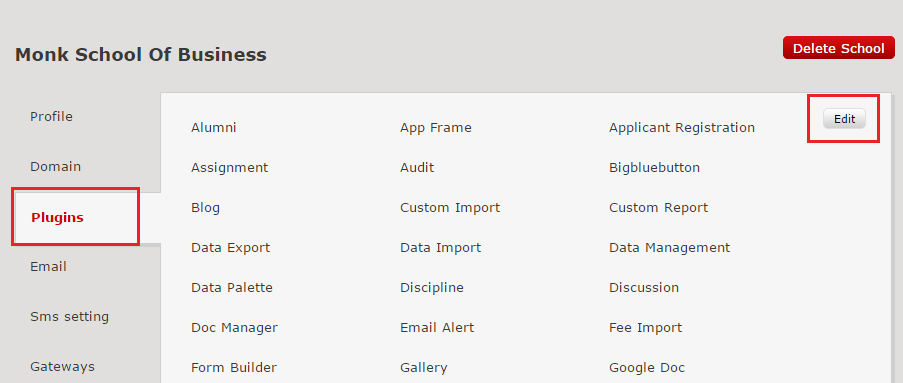 Enable the Azure plugin, and then click the Save button.
Related Articles

How can I perform Azure OAuth setting in the Fedena account panel?

Log in to your accounts.fedena.com or equivalent administrator panel used to create your schools. In the top right, click your username > Company to view the company profile. Click Plugin Settings > Azure OAuth. Enter the following information: ...

How can I enable Azure SSO in the portal's General Settings?

Click the (module access icon) > Administration > Settings > General settings to open the General settings page. Select the Enable Azure SSO checkbox. Click the Update button. Once this is done, users will be able to log in to your institution's ...

About Microsoft Azure AD Single Sign-on

Microsoft Azure Active Directory (AD) Single Sign-On (SSO) will allow Fedena users to log in to Fedena using their Microsoft account credentials, without using a Fedena username and password. Prerequisites:-To perform the Microsoft Azure AD SSO for ...

How to integrate your Google account with the portal for Single Sign on?

The following steps can be followed for enabling google sign in- 1. Go to https://console.developers.google.com using a valid google mail id. Note : If you are using Google Apps account, you need to enable Google Developers console as an account ...

How do I track SMS usage as Portal Account Administrators?

Portal Account Administrators can continuously track the SMS usage by their schools from their account panel. Log in to your institution portal account panel. In the top right, click your account name to open the account panel. Click ...