Registering user account and creating first project
In order to create your first calculation project in One Click LCA, you need a user account.

Do not share credentials, user accounts are personal.

Creating an account requires a working email address.

Please check your Spam folder if you haven't received the email.

If you don't receive the email and it's not in your spam folder you can contact
support@bionova.fi
.
1. Register your user account

Each user has to register at
One Click LCA registration page
. To activate your account, click the activation link that has been sent to your email after filling in the registration form.
2. Log in

Users can log in to their account by following
this link.
You can also find a link to the login at the top right corner of One Click LCA website.


Your login details are your email address and the password you chose upon registration.


If you have forgotten your password, you can get a new one sent to your email by clicking "Forgot your password".
3. Select basic account settings

Please choose following settings:

Unit system and language settings

4. Create your first calculation project

Choose the type of project you wish to create from a list and fill in the set up information for it.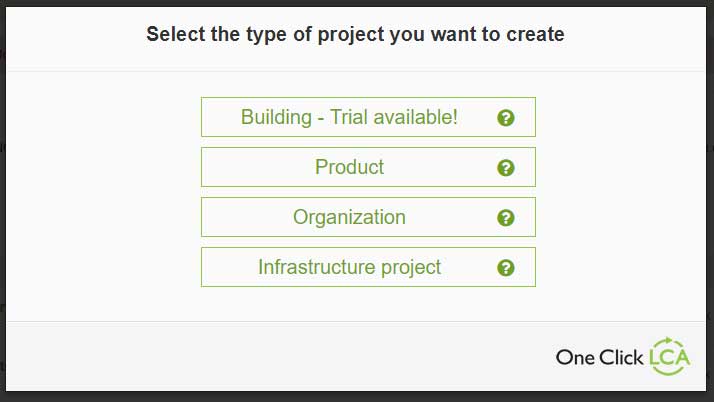 5. Fill in basic info about your project

Insert info about your project location and type. This info can be edited later if necessary.

If the tool you wish to use does not automatically appear in your project tool list, enable the tool from the Design ribbon, by clicking 'More actions'->'Available calculation tools'.

If the tool you need to work with is not listed, make sure that your project is linked to the right license from the project General information. All the certification projects (e.g. LEED/BREEAM) should be typically linked with your basic package license (Starter/Business/Expert, for #nr users) AND with the Certification add-on license.

More licenses can be linked by clicking 'More actions'->'Modify'. Read more about project licensing here.

8. Creating more projects

All following projects can be created by simply clicking '+Add' button



9. Keep up to date with the latest features

The service is constantly updated. You are welcome to join our user group on
LinkedIn
to be informed of the new features available.
For an overview of the latest available developments, you may also join one of the
free public webinars
based on your area of interest.
You can also check our user video guides if you have any issues.
Related Articles

Create your first Planetary project

This is part 1 of 5 in a video training series introducing One Click LCA Planetary. In this short video you'll learn how to create your first Planetary project. For more information on registering an account, please see Getting started with One Click ...

Creating a company account and adding users

Creating a company account It is necessary to have a company account if you want to Request EPDs from manufacturers, as well as to collaborate with your colleagues on a project. It's very easy to do and only takes a few clicks, as detailed in the ...

Creating portfolios

What does this feature do?Portfolios are used to compare / benchmark your own projects against each other. How do you use this feature?A new portfolio can be started by clicking on the 'add' button and choosing a 'portfolio' project. The Portfolio ...

Setting up a Company account

Setting up a company account is necessary to use our online store or for Expert license users to use Private constructions and Private data. If you have set up a company account you will also get prioritized mapping selection based of choices your ...

Floating (concurrent) and named user licenses

Different license typesThere are three different license types on the One Click LCA platform. These are the named user licenses, floating user licenses and project-based licenses. While new project-based licenses are normally not available, this ...