The software now prevents simultaneous use of tools with conflicting database or similar requirements in one design to avoid confusion in report generation. The conflicting tool can only be selected if the other tool is not chosen. Users are also warned about potential conflicts in project page if existing projects have accidentally chosen tools with conflicting settings or datasets. In the case of BREEAM UK for example, the benchmark calculations only use the IMPACT-compliant tool.

Biogenic carbon storage is now visible in all relevant data and clarifying information added

We have now added the biogenic carbon storage visible to material additional information for all applicable materials. You can recognise biogenic carbon from a tree icon. The popups also clarify, where relevant, that figures are shown before any local compensation is applied. None of the general One Click LCA data has biogenic carbon storage deduced from the A1-A3 impacts.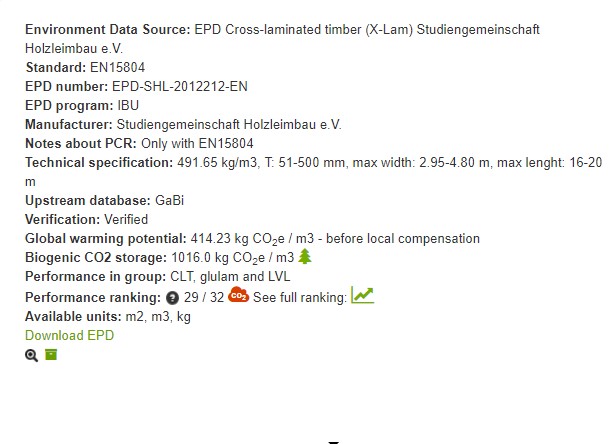 However, for tools such as DGNB and Energie Carbone, datapoints have also now mirror copies for these methodologies that require using data with biogenic data deduced from A1-A3 emissions (and re-releasing in end of life). In such cases the 'copy dataset' will contain expression 'biogenic CO2 not subtracted' in the name and technical specification. You can always see which is the case if you open the materials popup. You can never choose both the copy and the unmodified dataset in the same tool, you will only be able to access the datasets that comply with the methodology of your tool.

LCA Parameters suggest automatically defaults for your project country

When you set up a project, the
LCA Parameters query
is pre-filled with most appropriate defaults for your project location. Also, the project area given in the setup phase is used as default for designs.
Beta version of new local compensation model available in LCA Parameters

In LCA Parameters, a beta version of our new local compensation model is available. We do not recommend changing to this for live projects at this point as we are still refining the background parameters for this model. This new model is more sensitive to material types and will provide a closer match with the market performance in case extreme differences.

Localised material names for products are always visible in material data

Users will always see product names in the available languages, in spite of their language settings.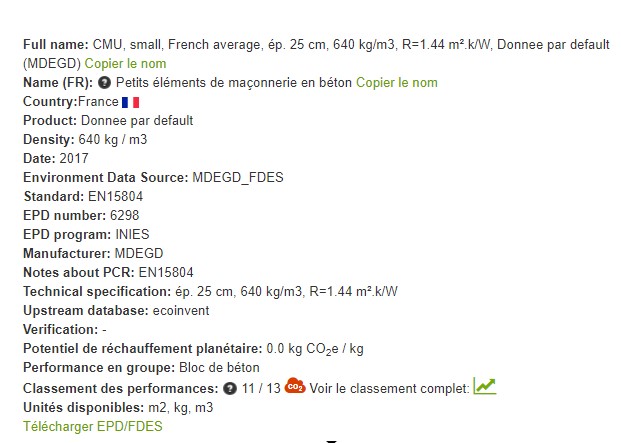 Full length material names are now included to exported Excel reports (e.g. BREEAM evidence)

Names of materials are fully visible in the
detailed reports
(e.g. Excel of BREEAM evidence report).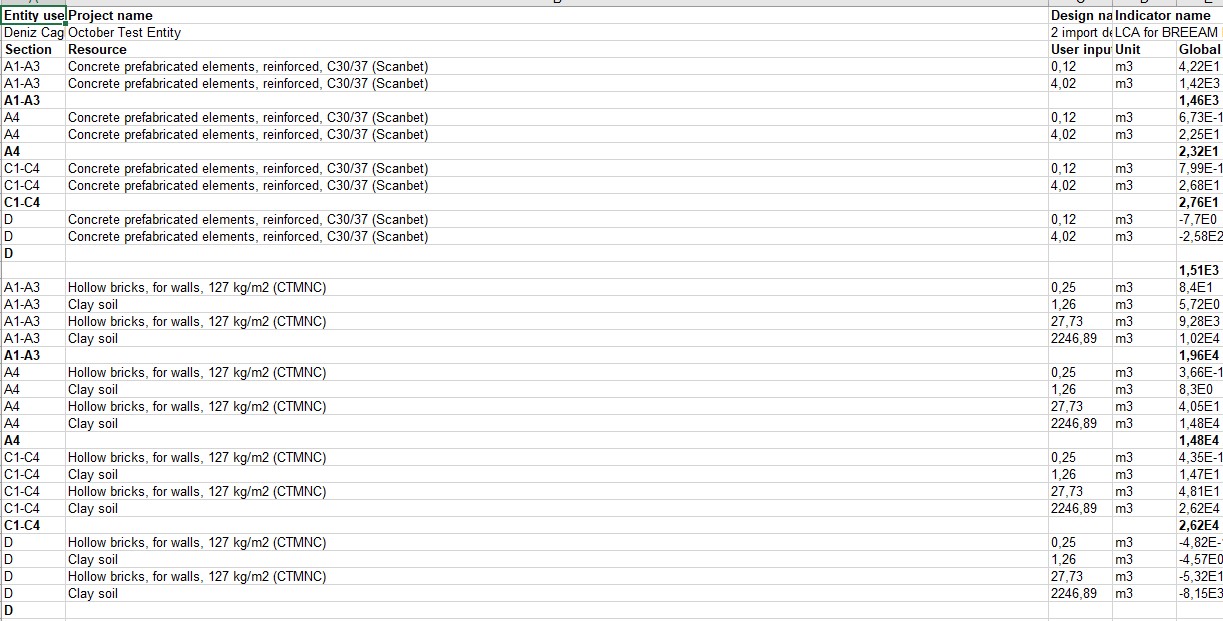 Many small improvements

Improvements to trial workflow and recommendations for best choices for user location

Clarification texts for local compensation and the material benchmarks

RIBA stages are now available in portfolio pop-ups

Corrections and clarifications to features and texts

Business and higher

Carbon Heroes Benchmark Program data is updated and new building types added

All Carbon Heroes Benchmarks for embodied carbon have been updated with data up to October 2018, and new building types and geographies are made available thanks to our partner green building councils.

New global benchmarks: Residential, Educational, Hospitals and healthcare, Office, Hotels, and Warehouse and industrial.

New regional benchmarks for all types: Central Europe: Hungary, Romania, Poland. Southern Europe: Italy, Spain, France. Nordic countries: Norway, Sweden, Finland. North America. New regional type-specific benchmark for Office, Nordic.

LCA Checker has been improved and corrected

LCA Checker rules have been improved, including fixing the rule for windows/openings.

Carbon Designer Norway and Europe buildings' default steel and concrete profiles were updated

See
Service Update Log
entry from 20 November 2018. Corresponding changes are applied also to the European Reference Building.
Changing all similar material datasets at once for quick material option comparison

When using the
Replace material
function in material query, you can now change all similar datasets at once. The feature works for materials that have same units, thickness and are not part of a construction.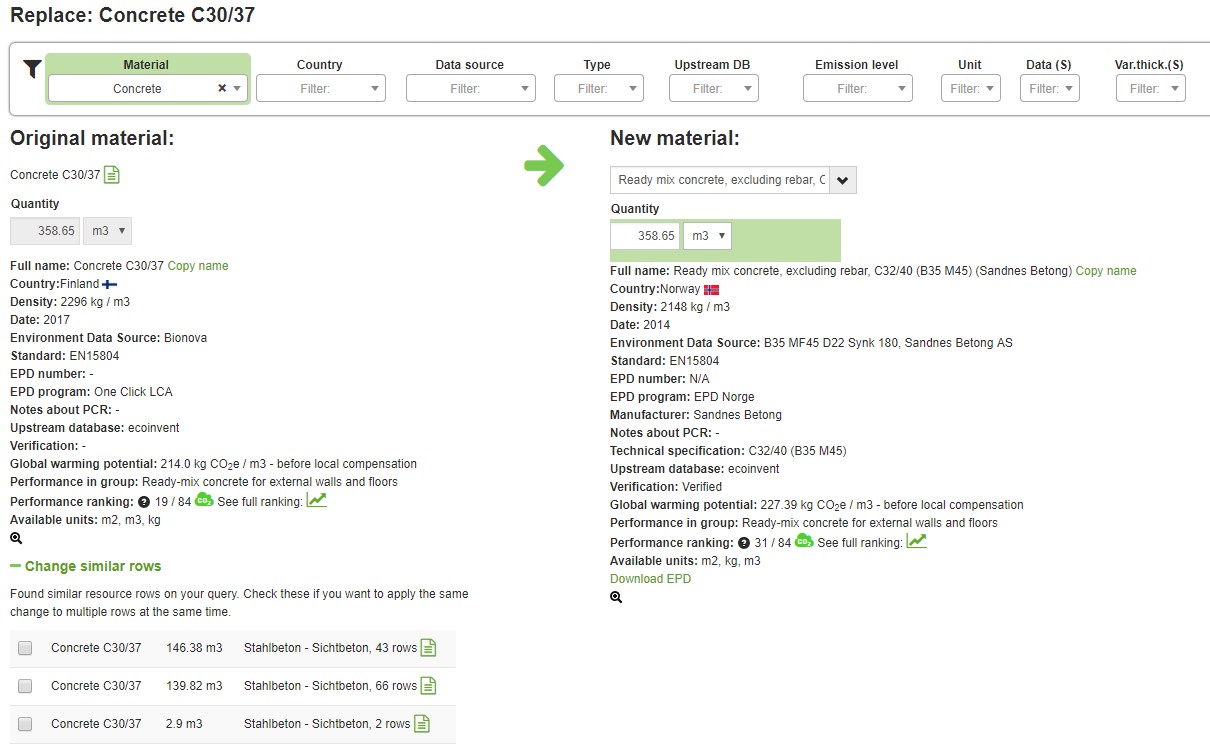 Changing all identified similar material datasets in import mapper

When importing data, you can now change all similar datasets at once. The feature works for materials that have same unit and identification.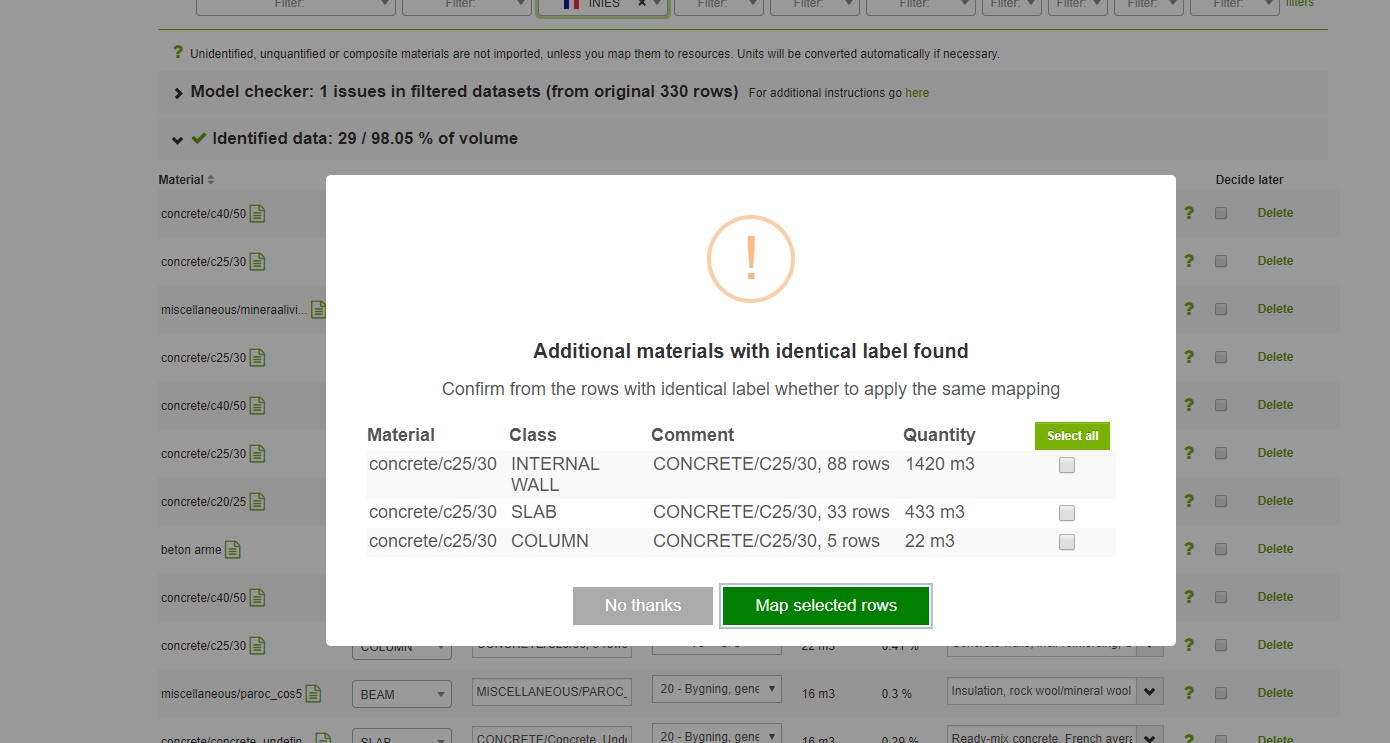 Simplified way to change automatically identified data in the import process

Materials can now be changed directly from the select. Other potential detected mappings will be shown first or then you can search new ones from database by choosing "Choose from entire database". This replaces the former "Change" feature.

Warnings added to data by the Model Checker in import stage can be removed

The data warnings for rows that you have already checked can now be removed manually.


Guidance for handling large datasets by combine settings in import added

When handling datasets that have too many individual rows the software now warns user and proposes how to handle the situation with combine settings (for example by allowing combining materials with different thicknesses). Similarly, data combine page show the amount of data and if more data is recommended to be combined.

Floating (concurrent) licence capability is now available

The software now enables concurrent licenses. Concurrent licenses (if available) are listed under the new Licenses tab on the main page. Clicking the feature allows seeing available licenses, who is using the checked-out licenses, checking out a license and releasing a license when no longer required. The user has to be added to the license users list to be able to see or check out a floating license. Any projects created using a floating license will be accessible only using that license. Logging out will also release any checked-out licenses. See our full guide
here
.

Expert-level features

Row-by-row local compensation adjustment (enabled on request)
For Expert license users, a row-by-row adjustment of local compensation region for any given material (or disabling local compensation) has been enabled. This allows you to for example set calculation to apply the known country of origin for a product sourced abroad. This feature is activated on demand only (write to support to activate it).


BREEAM UK Mat 01 tool also allows generating list of EPDs for the Mat 02 credit (optional, if you classify materials using EPDs from Technical Design stage optioneering)

All the LCA for LEED tools now also report biogenic carbon storage as additional information

North American LEED tools support data classification for Uniformat for reports & graphs

Energie Carbone tool now calculates C1 and C2 levels for Eges, PCE, and allows easier analysis of the totals with expandable result categories

New workflows available for LEED v4, Energie Carbone, BREEAM International, RICS and BREEAM UK (for both benchmarks and options)

LCC tool for UK has now expandable result categories, allowing easier analysis of results

New core LCA tool for the UK market: Whole life carbon assessment, RICS. This tool will be included to all of our UK client's subscriptions and will substitute the Level(s) tool as the default LCA tool for the UK market. The tool comes with an accompanying workflow.

New documentation in the Customer Support Center