Importing is a core process of One Click LCA. It is built on a patent-pending technology for transforming models to life-cycle impact assessments. This page concerns the use of the One Click LCA® in connection with gbXML files.
Watch our
tutorial video
of the tool basic functionalities and test the web interface so that you'll know how it works before starting the import.
Step 1: Open your model in the software for energy simulation you use and export the model into gbXML format.
Here
is the list of software tools that support gbXML
Step 2: The gbXML files will be imported via the 'Import Excel or gbXML file' choice in the user interface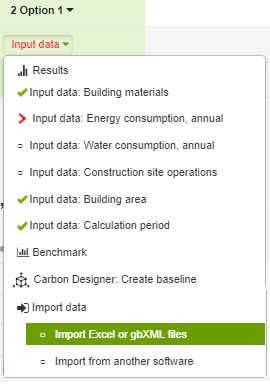 Step 3: Add missing data
If your model contains missing structures necessary to include in your LCA, add them manually. Energy models will contain all required parts of the enclosure as well as the floors and roofs. However, they often do not contain structures, like beams and columns. Go to the main page of your project, click on the design and choose Building materials question form. Add missing data there