What does this feature do?

This feature allows grouping individual resource inputs on the building material query of your design into a construction form data point. This feature enables improved inputs readability and clearness of the building materials query. Constructions created by this feature can also be saved as a private construction for the company account for later use in other projects.

How do you use this feature?

1. In building materials query, click on the 'Create a group' button under the building section header, you wish to group the materials for.

2. Drag and drop the desired material input rows to the designated area.

3. Name your group and set the reference quantity and quantity type for it.

4. Choose whether you want to group the materials for this project only or save the group as a private construction.

5. Click 'Save'.

You can also select the materials for grouping by dragging your mouse over the desired materials and clicking on the right mouse button to open the menu for group creation.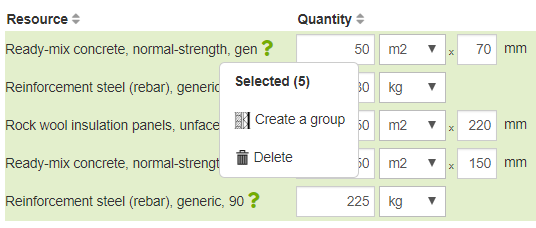 Only material resources can be used for grouping. Construction resources cannot be included to groupings.
If you choose to create a private construction of the created group, you are still required to publish it for use within your company in the 'Private constructions' within your company account page. More information on Private constructions feature can be found
here
.
Is this feature available to me?

Grouping of materials is only available to Business license users. Saving groupings as private constructions requires setting up a
company account
and an Expert license.