How does it work?

We make it possible for you to reach a potentially massive new audience, by providing you with a unique opportunity to distribute and promote your music in Mainland China.

What does Musicinfo do?

As you may or may not know, in China, music platforms such as Spotify, Deezer, Pandora, Tidal, Google Play etc. are not available.

To work around these restrictions, our company has created an intuitive and legally compliant music distribution platform which can help you distribute your music to over 33 music service providers in Mainland China.

Using our distribution platform, you can upload your music together with the required information such as copyright and lyrics as well as your artist profile complete with your artist bio and picture for the Chinese streaming sites, blogs and social media.

Check out this link for a short list of our partners: https://musicinfo.io/streaming-services/

How to get started

To get started, select and purchase a distribution plan that fits the number of releases* you have or you want to distribute from a choice of the following 4:

Star Distribution - 1 release

Bronze Distribution - 3 releases

Gold Distribution - up to 10 releases

Platinum Distribution - up to 100 releases

*1 release = 1 song / 1 album / 1 EP
Each plan has a set price which must be purchased to get started. Every plan is maintained by a yearly fee equal to less than ⅓ of the initial cost. Distribution options can be found here:
https://musicinfo.io/distribution.html
What happens after you purchase a distribution plan?

After you purchase a distribution plan, you will receive an email that contains your username (your email address), a new password and a link to the distribution platform.

NOTE: The distribution platform website
https://distribute.musicinfo.io/
is not the same as the webstore
www.musicinfo.io
. Therefore, the account you have for our main website (our webstore), will not be the same as the account that you have for the distribution platform.
Use the login information from the email you received after you made the purchase to log into the distribution platform where you can set up your account (create a new password and update personal information). You can then start uploading your music.

How do I upload my music to the distribution platform?

For the best user experience, you must use the distribution platform on your laptop or computer and NOT on your mobile devices (phones/tablets). We also recommend using the Chrome browser for the distribution platform.

What happens after you upload your music to our platform?

We distribute your music to the top five major streaming providers in China: QianQian Music, QQ Music, Kuwo Music, Kugou Music and Netease, from which you will collect royalties. It typically takes 5 weeks for the music to go live from the time of publishing on the distribution platform.
Delays may be possible in the event of extenuating circumstances.
In addition to these major Chinese music providers, we will send your music to 28 other Chinese music promotion companies and Chinese radio stations.
Be aware that the selection and airing of your music is at the sole discretion of these providers
, however most of the music we send them is usually selected and then published due to the demand for and interest in Western music. In the event that your music is aired on these services, you can collect your royalties from: Migu Music, iMusic and Wo Music. The time it takes for your music to go live on these services could be considerably longer compared with the major distribution services.
We check that all the data is correct and that the music has not been duplicated across music providers. We then send the metadata with the music files to China where it is checked in relation to legal copyright before it is distributed to the music providers. This requires manual work and may considerably affect the duration of the sorting and distribution process.

The statistics are calculated on a quarterly basis, so 4 times a year. Data is collected at the end of each term at which time the sorting and reporting period begins, which is done manually due to the lag in automation of these procedures. The sorting and reporting period takes 6 months due to the manual processing and the vast amount of data collected from all of our music providers, this means that from the time your music is live, it will take between 6 to 9 months for you to receive your first report and royalties. After your first report, you will receive consecutive reports every 3 months.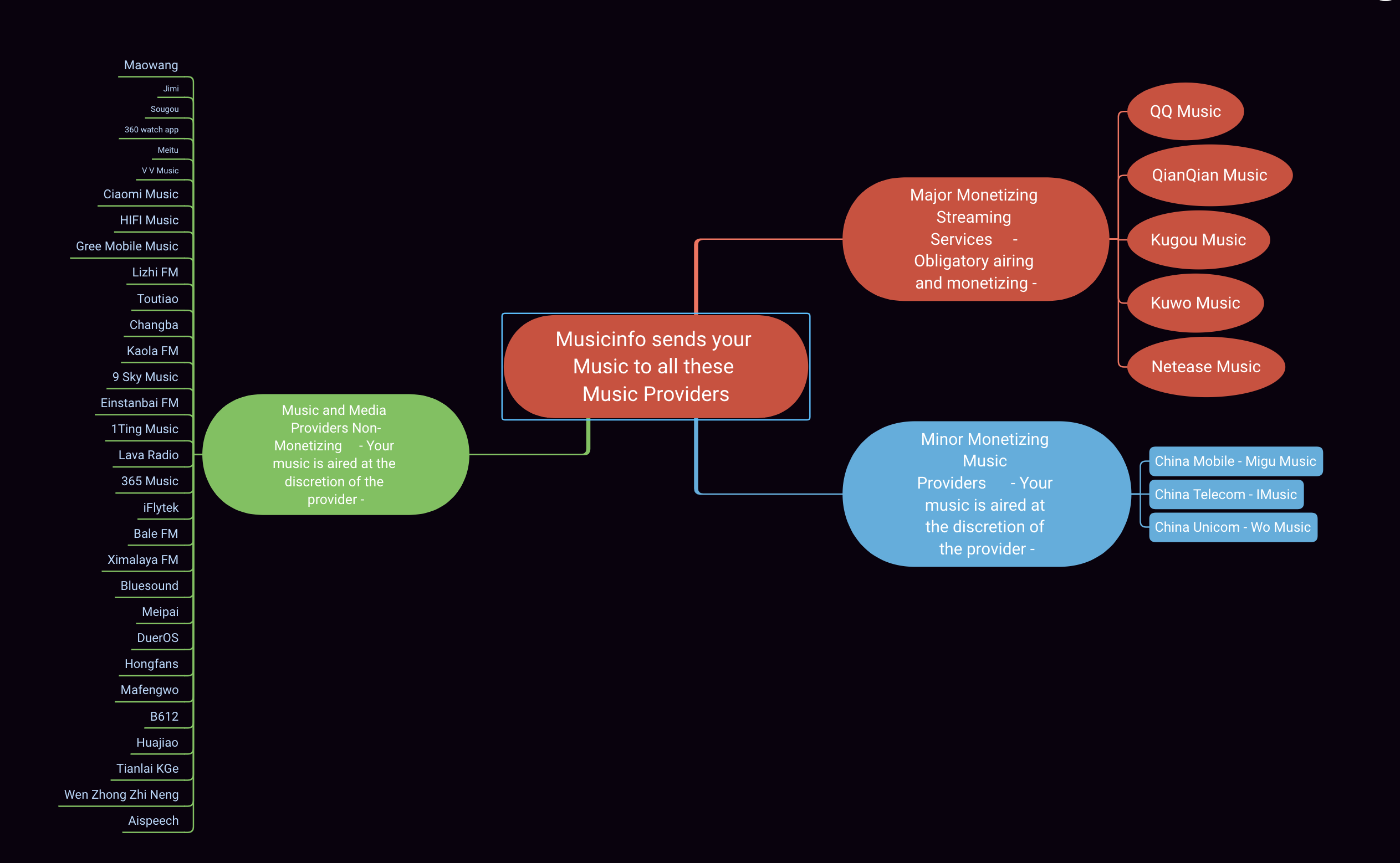 How do I get paid for my music streams?

Musicinfo pays artists 100% of ALL their royalties for the streams their music gets on the Chinese streaming sites we work with. We do not pay your publishing via performing rights organizations such as BMI, ASCAP, PRS, etc. We pay artists directly. The first streaming reports and statistics will appear on your account dashboard within the distribution platform after 9 months from the time your music went live in China. You will be able to collect your money from the PayPal account you added to your profile when you set up your distribution platform user account.

How do I promote my music in China?

Once your music has reached China, it's a good idea to promote it. Musicinfo offers artists 3 promotion plans to help artists gain visibility and get their music to more listeners and increase their number of plays. You can check out our promotional services here:
https://musicinfo.io/promotion.html
We can also make playlist inquiries for add your chosen track to lists with a typical following of over 1 million followers; Playlist inquiry costs 120€ and is payable upon playlist placement. This is for promotion only and will not return any direct royalties except for the indirect influence it may have on the monetizing streaming services your music is utilized.
If you are located in countries such as China, U.S.A., Canada, Brazil, Malaysia, Australia, Japan, Korea, Singapore, England, France, Russia, India, Thailand, Germany, Italy, Spain, Indonesia, Cambodia, Myanmar, Brunei, Philippines, Vietnam, Laos you will be able to create a Weibo account for free. Weibo is is a Chinese microblogging website. You can find a tutorial on how to create a Weibo account here:
https://desk.zoho.eu/portal/musicinfo/kb/articles/how-to-get-a-weibo-account
If you have any other questions please feel free to get in contact with us at:
support@musicinfo.io
.