About Jusnote's financial module
One of Jusnote's priorities is to completely replace third-party financial systems for owners of law firms, lawyers, and accountants who work in the legal market. Therefore we are constantly improving the existing tools in Jusnote and adding new ones. After reading this article, you will learn how to transfer money from one account to another in a few clicks as well as get more information about our financial module.


Jusnote makes it possible to transfer money from one company account to another in a few clicks, including transfers in different currencies using our converter.
How to transfer money from one account to another:
1. Go to your "Accounts" section from the left sidebar

2. Choose the needed account and go to its cards by simply clicking on the account's name

The system will redirect you to the account's card. On this page, you can see all the main information about your account, its balance, funds movement as well as you can make all operations with ease.
3. To open a modal for transferring funds, hover over the "Transactions button" and tap on "Transfer between accounts"


4. Fill in all required fields and tap on the "Save" button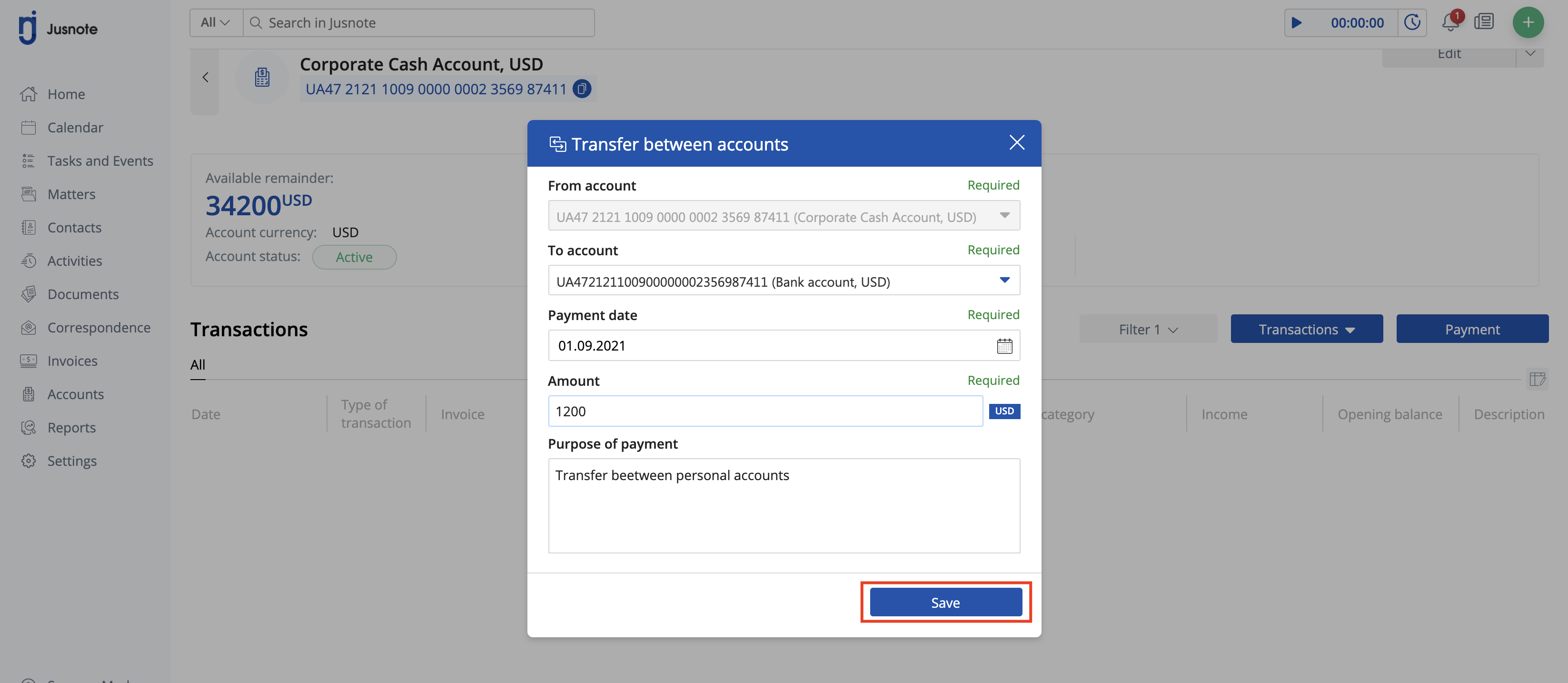 "To account" - choose the accountу you want to transfer funds to;



"Payment date" - select a date of payment. You can choose any date when the transfer is to be credited;

"Amount" - enter the transfer amount;

"Purpose of payment" - enter a description. You can leave the field unchanged;

In case you are transferring funds to an account that is in another currency, after clicking on "Save" the system will automatically open the converter to specify the exchange rate if necessary.
Convertor view: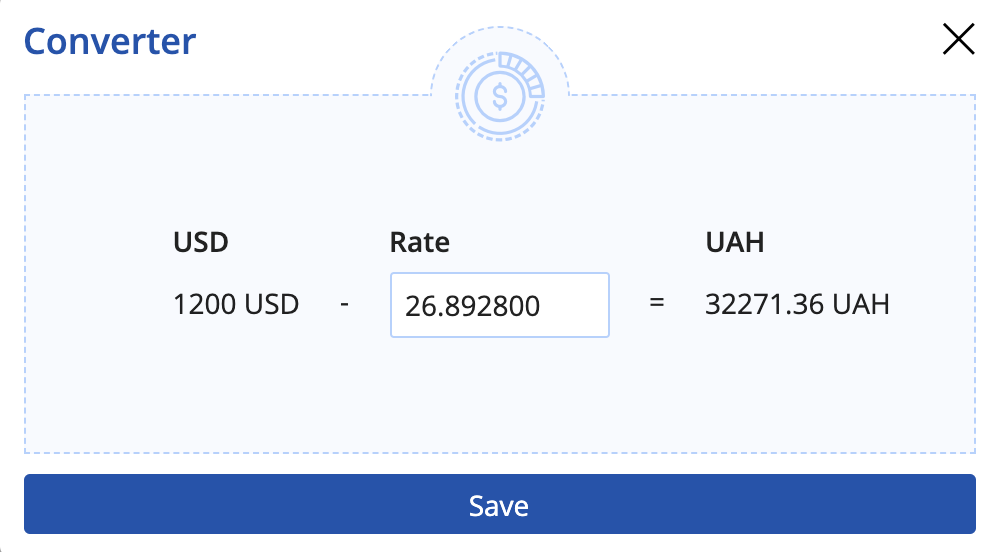 After a successful transfer, you will see the corresponding entry in the transactions list with the amount of the transfer, as well as the account to which the funds are credited.



The system allows you to immediately click on the account name in the table and go to its card.
Analytical information on the account page
In addition to the possibility of transferring funds between accounts, adding clients' expenses, internal expenses, or registering a payment, you can also get the information about your financial situation directly on this page. The data is placed at the top of the page. On the left, you can find the current balance of the account, and on the right - the sum of turnover for credit and debit with appropriate analytics
(↑ or ↓).

Adding the account to the archive

The ability to add accounts to the archive was created remove accounts that you don't use from various lists in the system. So you will never get confused. To add an account to the archive, you need to:

1. Go to your account card;

2. Click on the arrow next to the "Edit" button;


3. Click on the "Add to Archive" button;

4.
After adding the account to the archive, you will see that its status automatically changed to "Deactivated";