I am both, a label manager and an artist, can I have two accounts?
Sure! You can have both accounts, easily link them together and switch in between in just one click.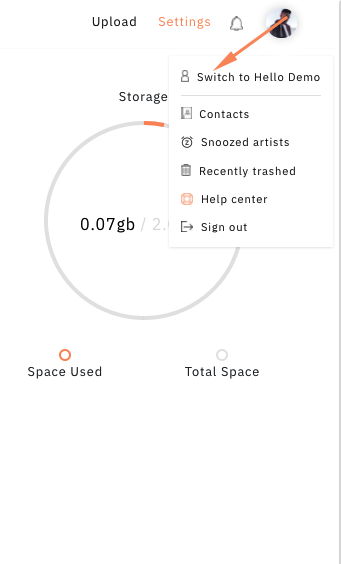 1. Go to Settings/
Link Account.
3. Select the type of account you want to have access: Artist or Label.
4. Introduce the full email of the account you want to have access and hit Request Access button.
5. Allow access from link sent to that email.
6. Easily switch between accounts from the picture icon at the top-right corner of your screen.
Note:
this communication is mono-directional, i.e, the account you've requested access to, will not have access to your account.
Related Articles

How can I send my music to a label?

There are two ways of submitting your track to a label: Via Platform search bar. Search for your favorite label, follow them and send your best track which you previously uploaded to the platform. (VIDEO) By dropping it on a label's Hello Demo ...

I can't find a label

In case the label you are trying to send your music to is not yet listed, please hit us up using the help chat located at the bottom of every page, we'll reach out to them as soon as possible. ​

What happens when I change my subscription plan from Artist to Basic?

Even if you cancel your Artist subscription you can keep on enjoying the basic Listener account. (link a tabla de pricing?)

What is a "Share"?

"Shares" is the currency used to send music to artists whom you are not friends with as well as to labels. Free Accounts receive 1 "share" and Artist Accounts receive 5.

What are the main benefits for a label?

Using our platform for demo management will save you a lot of time. Say goodbye to lost messages, hundreds of emails and expired links. Hello Demo helps you keep everything in one place. Release building and promo features are coming soon!