What can I do from the "Configure" class button?
Every class you create in Smart Revise has its own class configuration screen.

Once you have selected a class press the "Configure" button on the right.


You can do various things from the class configuration screen: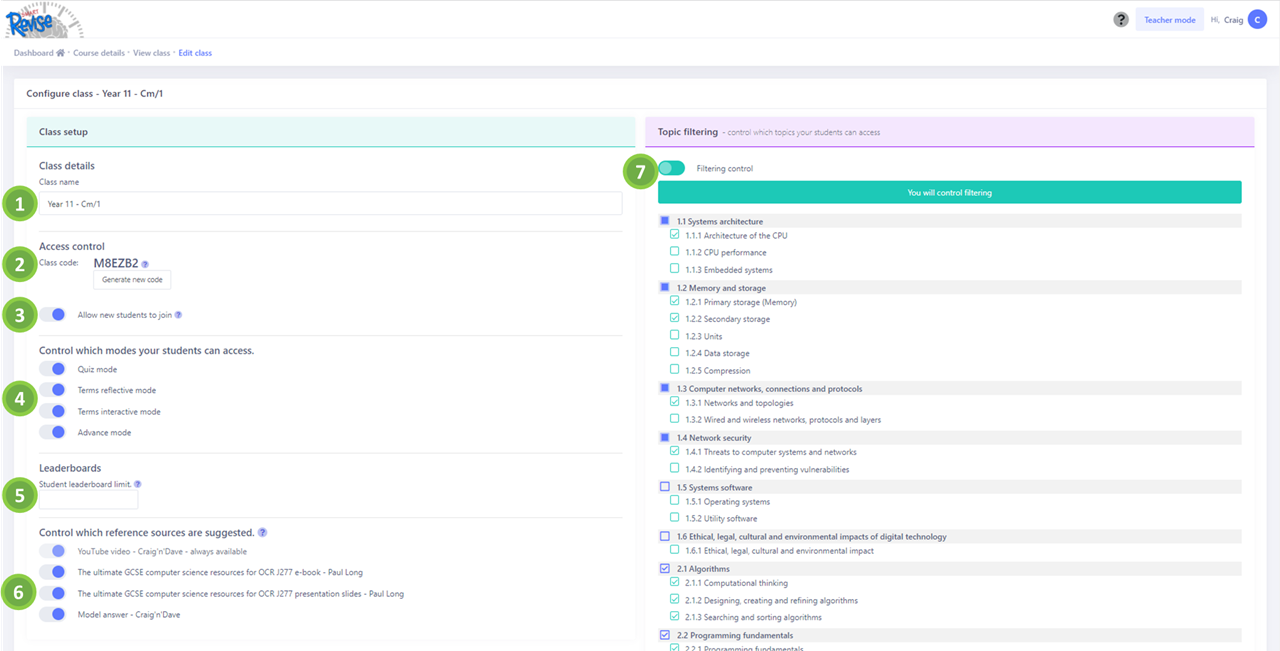 Change the name of the class

Generate a new class code.

Turn on / off the ability for students to join your class.

Turn on / off the various Smart Revise revision modes for this class.

Set the number of students you wish to see in the leaderboard (default to blank means all students will be visible)

Toggle what references to resources you want to show when a question is answered.
Control which topics your students can revise, or choose to give them full control over their topic filters.

Related Articles

My teacher gave me a code, how do I link to their class?

From your home screen select the blue "Join a class" button You will then be asked to enter a class code. Do this and press "Join class". You will see a success message, click OK: Each class you have joined my be displayed under the heading "My ...

How do I get students to join my class so I can track their progress?

First make sure you have: Added a new course from your available list Set up a new class Students then need to have access to the course pack themselves. There are two ways they can gain access. Either they can purchase one privately You can ...

How do I reclaim a voucher if a student has left my class / school so I can allocate it to another student?

As long as a voucher is still valid and has time remaining before expiration you may reclaim then and reassign them to different student. There are 2 way to reclaim a voucher: 1. Accessing your Class and clicking "Reclaim Voucher". 2. Click on the ...

How do I set up a new class?

First select the course you want to manage from your Dashboard. Next select "Make a new class". You will be prompted to choose a name for your class, this can be anything you like. Once you are done select "Create class". You will see the class is ...

How do I purchase Smart Revise for my class?

Smart Revise orders are handled separately from our other resources and products. To order Smart Revise vouchers for your class: Sign up for a teacher account at smartrevise.online and log in. Click "Add course." Choose the appropriate course and ...