I haven't covered the entire specification yet, won't this confuse students? (Topic and Sub Topic filtering)
Don't worry!
You have total control over what sections of the course specification students will have access to.
Once you select a course from your home screen and then select a class you will be able to filter topics and sub topics by selecting the "Configure" button.


This way students will only see questions from the topics or sub topics you want them to.

By enabling this feature at a class level it allows Smart Revise to handle the fact the different classes might be at different stages in the course.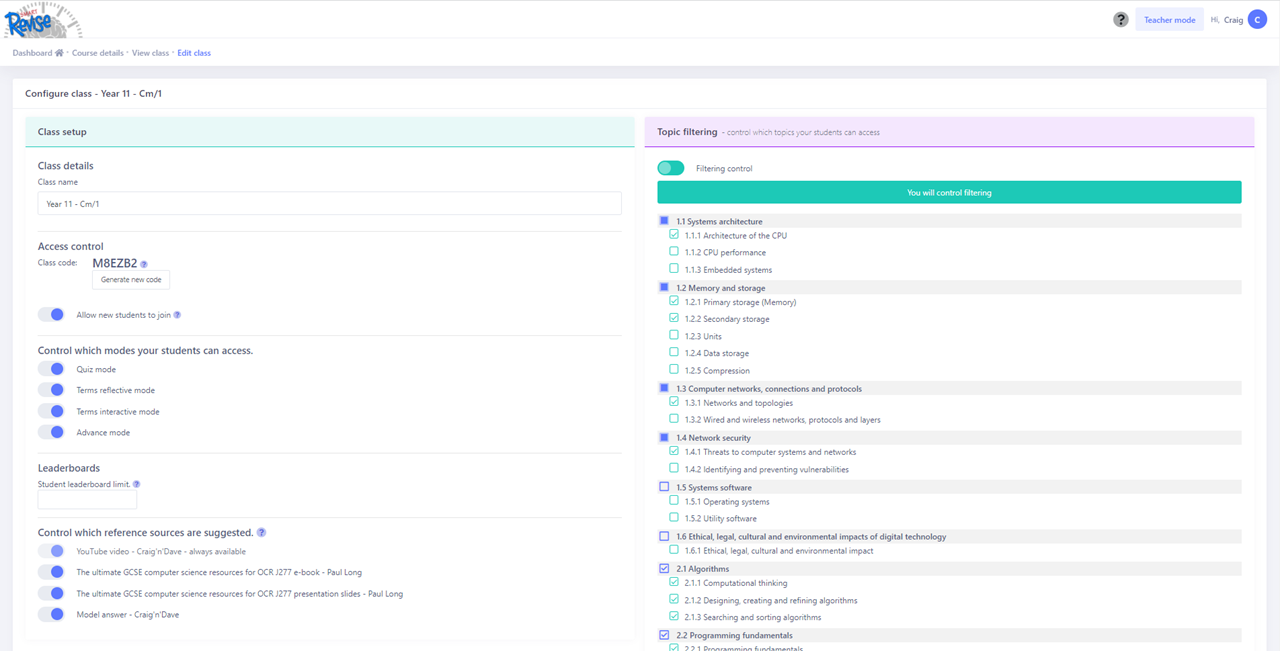 To select a sub topic, simply tick the sub topics you wish to be shown.

By selecting the while topic, this will show all sub topics to students.
Related Articles

Turning on/off the ability for your students to select their own topic filters

Once you have set up a class and students have joined it you have the option to either control the topic filters yourself, or allow your students to control topic filters. Simply select the course and then the class. Select the "Configure" button. ...

How can I see how well my students are doing (teacher analytics)?

We are providing a number of ways for teachers to track the performance of their class, this article will be updated as well roll out new features. To access class analytics First select the course you are interested in from your home page and then ...

I don't have a purchase order number yet – can I go ahead and place my order?

As many schools are now operating on a "no purchase order number, no payment" system, we cannot process your order without one. Please obtain a valid purchase order number from your school's finance department before placing your order. Please ensure ...

My membership isn't due to expire for a while – can I renew early?

Yes! We understand that making the most of your budget can involve a little hoop-jumping from time to time. If your Craig 'n' Dave membership isn't due to expire until the next financial year but you would like to use your current annual budget to ...

How do students start a task?

Once a task has been created and set, students will see "Your tasks" at the top of their selected course page. If the icon is red this means there is an outstanding task to be completed. To view the task click the expand box: There are different ...