How do I get students to join my class so I can track their progress?
First make sure you have:

Students then need to have access to the course pack themselves.

There are two ways they can gain access.

The student can then simply select this course from their home screen and click "Join a class".


They should use the class code you set up for them in step 2 (E.G: YKBV61).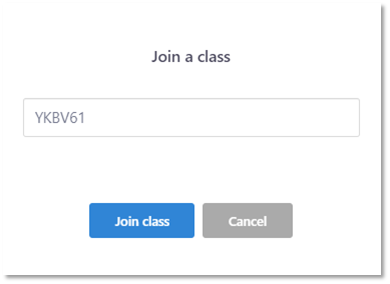 When a student adds themselves to your class you will be able to allocate a voucher to them.

If a Student has already purchased a voucher a message will show. Vouchers can still be allocated if a voucher would give longer access than a student has paid for but you can now see which students have access via their own funding and which don't have access at all.


If you have multiple students in your class you can allocate vouchers to all of them by clicking the "Allocate all vouchers" button at the top right of the screen.

Related Articles

What can I do from the "Configure" class button?

Every class you create in Smart Revise has its own class configuration screen. Once you have selected a class press the "More Actions" then "Configure Class" from the dropdown. You can do various things from the class configuration screen: A - Class ...

How do I allocate vouchers to my students once I have purchased them?

First make sure you have purchased some vouchers. Next create a class... ... and get your students to join your class. Once you have done this allocation of vouchers is a simple process: Select the appropriate course from your Dashboard. Select the ...

How can I see how well my students are doing (teacher analytics)?

We are providing a number of ways for teachers to track the performance of their class, this article will be updated as well roll out new features. To access class analytics First select the course you are interested in from your home page and then ...

We teach shared classes, how can multiple teachers create, join and manage shared classes?

1. First of all one teacher needs to start by creating a class. (click link for instructions) 2. As the teacher who created the class, share the class code with the other teachers you wish to share the class with. E.g. KABQE6. 3. Any other teacher ...

How do I set up a new class?

First select the course you want to manage from your Dashboard. Next select "Make a new class". You will be prompted to choose a name for your class, this can be anything you like. Once you are done select "Create class". You will see the class is ...