How do I add a new course for my students to use?
From your main screen after login in select "Add new course".


The courses you already have selected will be shown at the top with a green tick in the upper right corner.
Available courses for you to choose from will be listed at the bottom.
Simply select the course you want and it will be added to your account.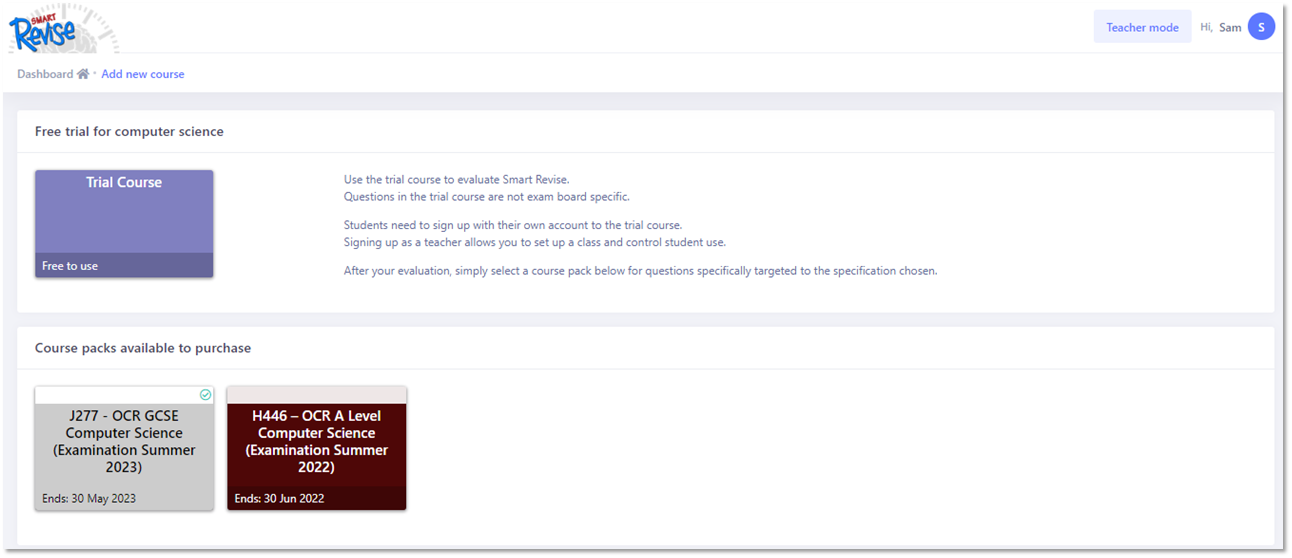 There is no cost or charge associated with this. You only get charged when you purchase voucher codes for your students.

We have this feature so your dashboard will not be full of courses you do not need.
Related Articles

Creating a new Task

To create a new task log into your teacher account. Once logged in navigate to the course you wish to set a new task for. Select the class, and click "Tasks" from the navigation menu: Click on "New Task" to get started. There is a 7 step wizard to ...

How do I buy revision course packs for my students?

Start by selecting one of your available courses from inside your account. Then choose "Buy course vouchers" from the top left menu Then, input the required vouchers. If you are looking to order more that 1 course you do NOT need to place separate ...

How do I set up a new class?

First select the course you want to manage from your Dashboard. Next select "Make a new class". You will be prompted to choose a name for your class, this can be anything you like. Once you are done select "Create class". You will see the class is ...

How do I get students to join my class so I can track their progress?

First make sure you have: Added a new course from your available list Set up a new class Students then need to have access to the course pack themselves. There are two ways they can gain access. Either they can purchase one privately You can ...

Why use Smart Revise / How is it different?

Smart connections... Unlike other multiple choice questioning tools, Smart Revise offers help when students get a question wrong, by explaining the correct answer. With direct links to relevant videos from CraignDave, students can jump right back to ...