Changing your Colour Scheme
If you struggle working on a plain white background, we have made some new colour schemes to help.

To change your colour scheme:

Log into Smart Revise

Click your name in the top right

Click "Manage Account"

Click "Preferences"

Change the "Colour Scheme"

Click "Update Preferences"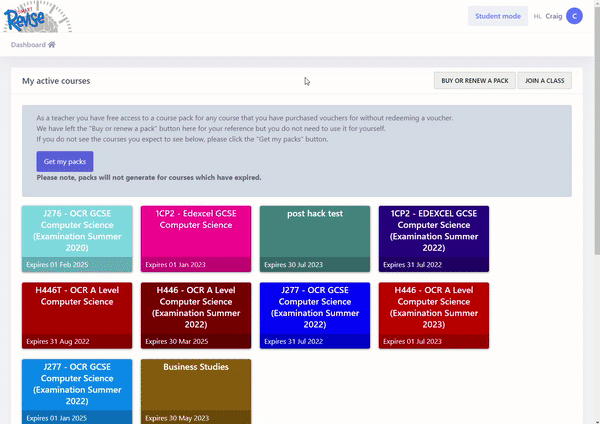 We have cream and lilac themes available, w
e are currently working on a dark theme.
Related Articles

Are there any discounts available?

Yes! One of the most common questions we receive is, "Do Craig 'n' Dave members get a discount on Smart Revise?" In the interest of fairness, we decided not to go down this route – instead, we went with a simple bulk discount scheme, available to all ...

What are the benefits of a Craig 'n' Dave membership?

It may sound too good to be true for the price, but a Craig 'n' Dave membership really does include everything you need to teach the following Computer Science courses: OCR GCSE (J276/J277) AQA GCSE (8520/8525) EDEXCEL GCSE (1CP2) OCR AS/A Level ...

How do I access my personal award badges and leaderboards

Select the course you want to revise from your home screen. Then select the "Awards" button from the menu on the right hand side of the page. This will take you to a screen which will display an overview of your personal awards. To View your awards, ...

Our commitment to your privacy

Here you can download a copy of the following: Craig 'n' Dave: Our brief GDPR leaflet - LAST UPDATED 28.09.20 Our complete Craig 'n Dave privacy notice (GDPR compliant) - LAST UPDATED 28.09.20 Smart Revise: Our brief GDPR leaflet - LAST UPDATED ...

How can I see how well my students are doing (teacher analytics)?

We are providing a number of ways for teachers to track the performance of their class, this article will be updated as well roll out new features. To access class analytics First select the course you are interested in from your home page and then ...