How to Create a New Account?
This is the most important action before using the wallet and consist of 2 Steps:
1) Setup your Account Name and Password, SAVE THEM AND KEEP SAFE,

YOUR PASSWORD IS NOT KEPT BY CFX
2) Save your Mnemonic (Seed Phrase or Secret Phrase)


IF YOU LOSE MNEMONICS YOU WILL LOSE THE ACCOUNT AND ASSETS!!!!

1) CREATE ACCOUNT

On the Home Page you will find on top right corner the "Create Account" Button.
if you do not create account yu will be able to see only the "Trade" page if you click other tabs you will be asked to open account.

When you choose "Create Account"

You will See this page


The ACCOUNT NAME will be created on the blockchain, not only as an exchange but also as a unique ID for the entire CFX Wallet blockchain.
*Account name is case sensitive;

*Account name's length should between 3 and 32;

*Account name supports English characters, Arabic numerals and symbols . _ @;



*This password will be used to locally encrypt the private key of the account. You will need to enter this password for future login, trading, transfer, withdrawal, etc.
Please set it carefully.


Before clicking CONFIRM please take time to read the Terms and Conditions and Tick the Box or you will not be able to create account.

STEP 2 : SAVING "MNEMONICS" The Secret Phrase"

THIS IS THE MOST IMPORTANT PART:
IF YOU LOSE MNEMONICS YOU WILL LOSE THE ACCOUNT AND THE ASSETS!!!
MNEMONICS PHRASE IS UNIQUE, CREATED ON BLOCKCHAIN AND CANNOT BE RECOVERED BY ANYONE IF YOU LOSE IT.


PLEASE WRITE IT ON PAPER OR FILE OR PICTURE AND STORE IT IN A SAFE PLACE BEST OFFLINE (Cold storage) TOGETHER WITH ACCOUNT NAME!!!
YOU WILL NEED IT TO MOVE ACCOUNT TO OTHER WALLETS AND RESTORE YOUR ASSETS.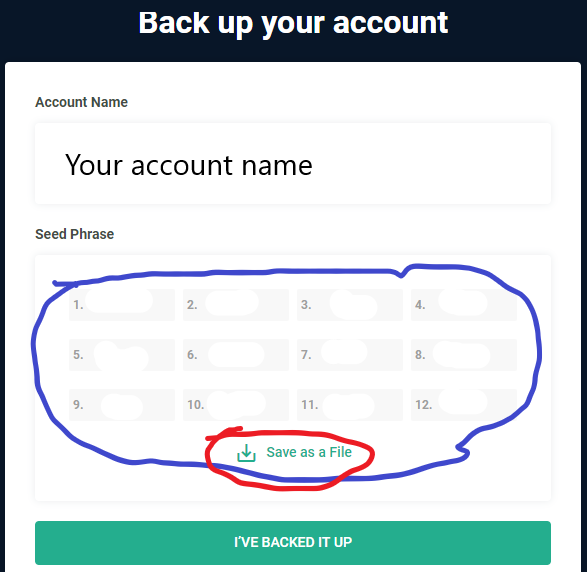 You will see this box with 12 Words (the seed phrase), take note of them by writing or taking a picture and then press Save as a File. This will create a file called "mnemonic-name of your accout.txt"
One you are sure press "I'VE BACKED IT UP".